Why Are Mold Remediation Companies Your Best Bet in Queens?
1/16/2022 (Permalink)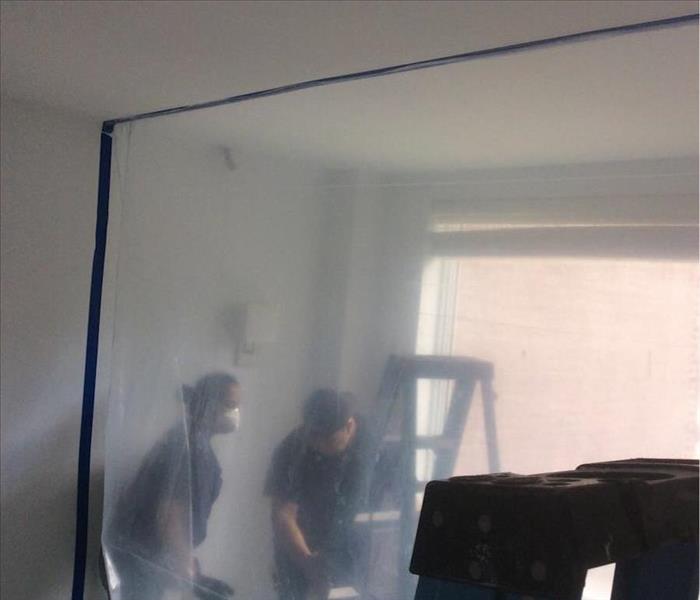 Mold damage remediation is no easy task. SERVPRO uses the latest technology and equipment for every size of disaster.
Mold Remediation and Cleanup Call for Skilled Technicians – Call SERVPRO to Your Queens Property!
Black mold is never anything that a Queens property owner wants to spot in their building. Whether you are a homeowner or property manager, working fast to have the mold safely and efficiently cleaned up is crucial. Even the smallest amount of mold infestation brings potential health effects for people and pets within the home. This means having mold specialists on the job to perform rapid remediation is best. SERVPRO can help, making your property Certified: SERVPRO Cleaned.

Why look to mold remediation companies in Queens? Because SERVPRO knows how fast mold spores colonize, given the ideal moisture levels and temperatures. After it begins to spread, it can lead to irreparable damage to your building materials, contents or even bring structural damage. Even worse, there are some cases where mold spores may spread without detection.

Bathroom, kitchen, and basement mold cleanup is a pain for anyone to attempt with DIY methods. Trying it yourself means running the risk of inhaling it or disturbing the spores, so they become airborne. These are some of the top reasons why you need SERVPRO's IICRC-certified technicians to handle your project:

Mold cleanup is laborious – You should never spray and wipe areas of visible mold. You should also never have your HVAC system running because it can catapult spores throughout the building. SERVPRO has proven methods for carefully vacuuming spores and cleaning surfaces in the safest manner possible.
Personal protection equipment is required – All of our team works while wearing PPE and puts containment barriers in place to limit tracking and displacement of mold spores.
Prevention of future issues – Once cleaned, mold can colonize again when given the right environment. Our SERVPRO team will go over the best way to keep mold from developing in moisture-prone areas of your building.
Mold cleanup and remediation are better when an experienced team is handling them for you. Call (718) 381-3702 to talk with us at SERVPRO of Forest Hills/Ridgewood when you need mold-related assistance.