Can Winter Weather Cause Water Damage for Queens Residences?
12/29/2021 (Permalink)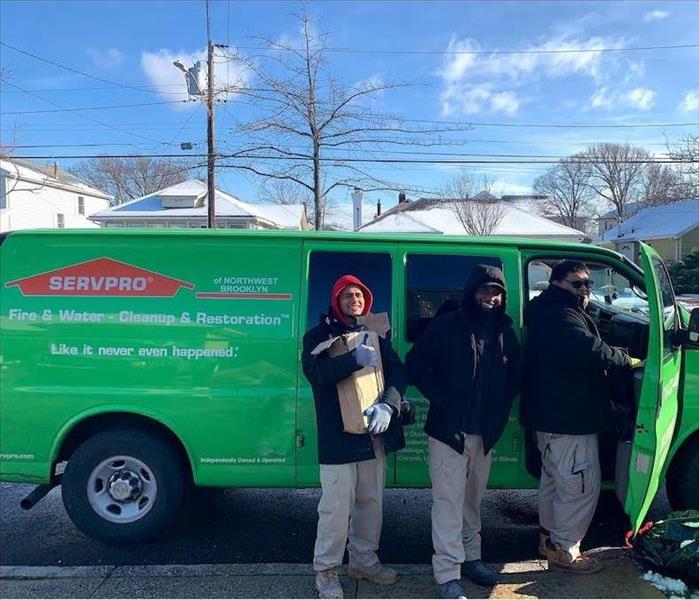 Winter months may cause frozen pipes issues. SERVPRO techs have the training and experience for all storm damage restoration.
Take preventative steps to avoid costly damages to Queens homes during the winter months.

The winter can be a hectic time for area homes and businesses, which might leave you less attentive to the needs of your property. Insufficiencies during harsh winter conditions can result in water damage.
The Costly Damage of Winter on Local Homes
There are many ways harsh winter conditions could impact properties, such as frozen pipes and ice damming Queens residences experience during this season. These situations could have costly and destructive effects on a property, making it vital to take any preventative measures possible to avoid these emergencies. Some of the ways that you can do this include:
Better Insulation - Insulation is key to preventing roof damage and frozen pipes. Sufficient protection from the cold on lines and keeping warmth in the house by not letting it escape through the roof both help these causes.
Expose Pipes to Warm Air – Pipes need to be exposed to warmer air you have to regulate the temperature for the rest of the property. You might need to open cabinets or doors to allow better circulation.
Avoid Ice Formations - Preventing ice dams can keep areas like the attic from becoming flooded. Heated cables are the trusted method of avoiding ice formations, but ice belts also work to deter this buildup.
Can SERVPRO Help After Water Damage?

If preventative measures never happen or prove insufficient, our SERVPRO team can help with the mess that results. We have fast mitigation solutions to handle standing water and begin intricate drying, surface cleaning, and structural/plumbing repairs.
The winter months might be a hazard to many homes, especially those unattended or underinsulated against the threats of lower temperatures. Our SERVPRO of Forest Hills / Ridgewood team can help throughout the borough and surrounding areas to make water damage threats like burst pipes "Like it never even happened." Call today at (718) 381-3702.