Clearing Runoff Floodwater in Queens Basement Businesses
11/10/2021 (Permalink)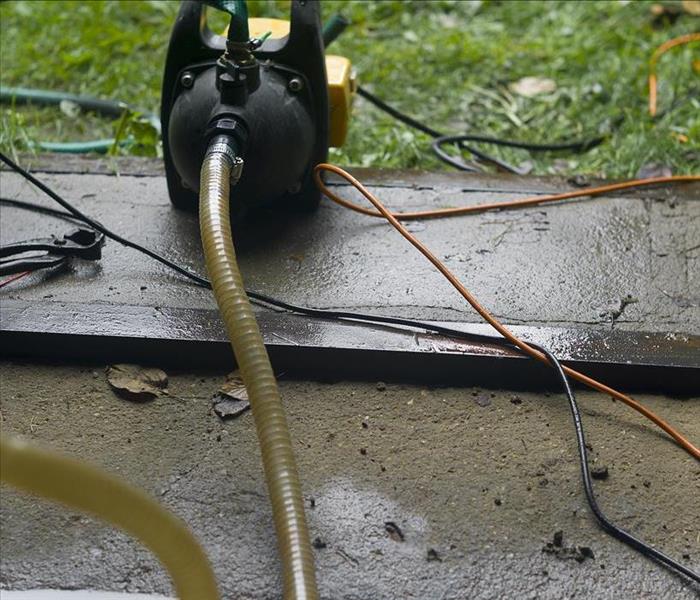 SERVPRO has advanced equipment like sump pumps, trash pumps, truck-mounted pumps to extract floodwaters from Queens area retail basement shops
Effective extraction measures and cleaning can be vital after flooding in Queens
It can be tempting to try and save everything you possibly can when flooding occurs in your lower-level business, but this is neither safe nor feasible. Most things can be replaced. When torrential rains or situations like the remnants of a powerful hurricane system impact New York City, culverts and drainage systems might not be able to keep up. Designed spaces below the street level can be victims of rapidly developing flood scenarios. In these situations, here is what you need to do:
Water Removal with Pumps and Vacuums
Storm damage in Queens businesses on this lower level, often below sidewalk height, can involve several feet of standing water. Using a range of pumps and vacuums, our professionals can begin to discharge the pooling to assess the extent of tear-out and reconstruction that will ultimately be necessary to make these threats "Like it never even happened."
Muck-Out Cleaning and Content Recovery
Once our truck-mount extractors and trash pumps have managed the water and some of the debris/solids present, muck-out cleaning and post-flood cleanup are next. Being runoff from the street, many residues can coat wall and content surfaces, including oil, grease, cinders, and more. Additionally, this is the time to inventory and evaluate any contents for what is unsalvageable and what might still be saved.
Flood Restoration After the Disaster
Even if you do not contact our professionals immediately, we are here to help with whatever phase of flood recovery and restoration you might be in. At times of crisis, many property owners are preyed on by unprofessional cleaners and con artists who do not do the work promised to get your business up and running again. We can help however you need.
Flooding does not have to be the end for your business. Give our SERVPRO of Forest Hills / Ridgewood team a call to help at (718) 381-3702.