Using Humidity Data to Make Drying Efficient in Forest Hills Homes
11/4/2021 (Permalink)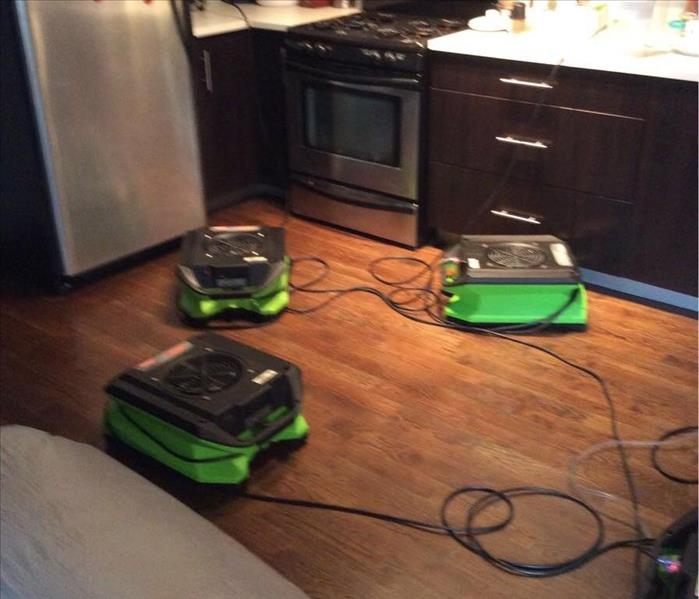 SERVPRO techs maneuver air moving equipment to facilitate the drying process in Forest Hills area homes. Monitoring humidity plays a key role.
Using several tools and practices, we can make drying and cleanup efficient in Forest Hills properties.

Multiple measurements and calculations go into thoroughly drying and restoring a home after water damage. Removing trapped moisture and water from building materials and the environment involves direct management of humidity. Drying principles, when manipulated appropriately, can make for highly efficient and thorough evaporation practices.
The Role of Humidity
Humidity is the measure of moisture in the environment and can indicate the damage requiring water removal in Forest Hills homes. Calculating and tracking the presence and level of humidity in the atmosphere can determine the type of drying and water removal tactics necessary to restore the house. Each of the primary drying principles must be in balance for the most efficient solutions, so humidity must be measured against:
Airflow
Temperature
Affected Materials in Workspace
The Humidity Capacity

The capacity of moisture in the environment is a necessary piece of knowledge to regulate how much work must be done to return a building to favorable conditions. Temperature greatly dictates the humidity ratio, or the capacity for air to hold moisture. As the temperature increases, the capacity for water in the environment increases as well.
Measuring Relative Humidity and Seeking Balance
Just because a specific environment can hold a certain amount of moisture does not indicate that the workspace is fully saturated. As drying and dehumidification begin, this relative humidity RH will start to lower. The relative humidity is a percentage of actual moisture in each environment against the capacity for moisture determined by the humidity ratio. This knowledge helps to track the progress of drying as we continue to restore your property.
With experienced restoration professionals ready 24/7, trust our SERVPRO of Forest Hills / Ridgewood team to efficiently mitigate loss and restore your home to preloss condition after water damages. Call us today at (718) 381-3702.