Are Fire Repairs Expensive in Queens?
1/25/2021 (Permalink)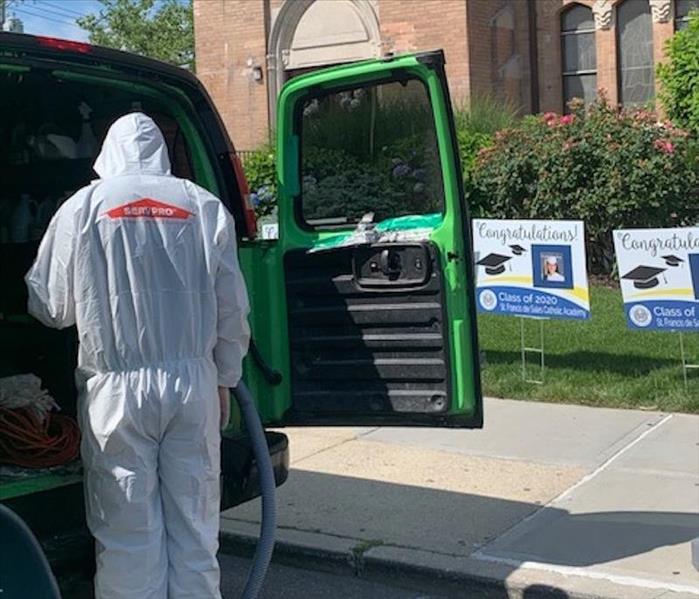 Fire damage restoration is no quick or easy fix. Call SERVPRO for the fire restoration services to get your property back to preloss condition.
SERVPRO's Professional Fire Mitigation and Restoration Services Can Reduce the Expenses of Fire Restoration
The borough of Queens is one of New York City's largest, with 2,230,722 people. The district lies on the Western side of Long Island sharing borders with the Bronx, Manhattan, Brooklyn, and Staten Island. The formation of Queens dates back to the seventeenth-century when settlers from Europe took place on the Eastern Coast of the United States. The original settlers were a mixture of Dutch and English, with residents of the settlement being subject to Dutch law until 1664, when the area was officially named New York. Queens was one of the original twelve counties that were incorporated into New York State in 1683. While modern-day Queens formally is a borough, it ranks on the same scale population-wise as some of America's largest cities. There are numerous neighborhoods in the area that cover both affluent and social housing regions. Key areas include Ozone Park, Flushing, and Jackson Heights.
Queens is one of the most ethnically diverse regions in the United States with African-American, Asian, Peruvian, Italian, and Latin-American communities. There are estimated to be 138 different languages spoken throughout the borough of Queens. The rich diversity in the borough has led to it being the center of important cultural events throughout the twentieth century. These include the Jazz explosion in the 1920s. Jazz masters such as Louis Armstrong and Ella Fitzgerald lived in Queens during the early twentieth century to avoid segregation and other civil injustices. The borough is also notable for producing the East Coast hip-hop sound, including Nas, Run DMC, and a Tribe Called Quest. The Queens Night Market is a celebration of food diversity and attracts thousands of residents and visitors each day.
Citi Field is the home of Major League Baseball team the New York Mets. Situated in Queens, the 41,922 seater stadium was estimated to cost $850 million.
Each year, the US Open takes place in the neighborhood of Flushing Meadows at the Billie Jean King National Tennis Center.
Queens, Harlem, and Brooklyn cultural tours allow visitors to experience the area's unique heritage and cultural history, from CBGB punks like the Ramones to Jazz masters like Louis Armstrong.
SERVPRO Assists Queens Residents with Contents and Structural Restoration after Fire
Fires can cause extensive damage to a home. Cosmetic damages may include smoke residues, low indoor air quality, and foul odors. A high-temperature fire can cause structural damage or char to materials in the building assembly. SERVPRO can help restore your home after a fire.
Using professional fire damage restoration in Queens can remove the stress from a recent fire. Our technicians are capable of identifying non-salvageable materials and removing them quickly. By operating with a restore over replace mentality, we can help keep the cost and time-frame of restoration low.
Air Filtration Devices can remove foul odors and restore indoor air quality in your home.
Using a combination of fogging equipment and odor, counteractants can deal with most odors caused by fire.
Our team is local to the area, which can reduce call-out times significantly.
Get a quick resolution to property damages, contact SERVPRO of Forest Hills / Ridgewood for fire damage restoration at (718) 571-8072.