Can Restoration Services Dry a Home Faster After Flooding?
10/30/2020 (Permalink)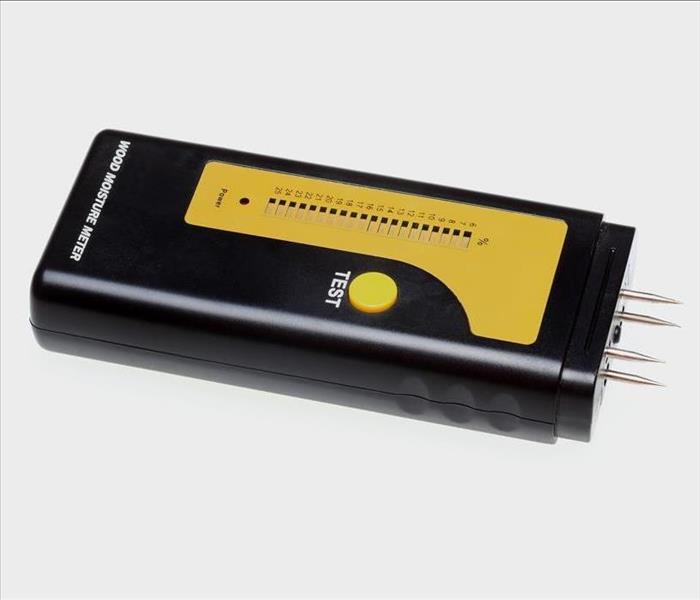 Flood damage mitigation means discovering moisture points in a Kew Gardens hardwood floor. SERVPRO has the newest technology like this moisture meter
SERVPRO Technicians Utilize Comprehensive Drying Strategies to Rescue your Kew Gardens Home from Flood Damage.
Is restoring a water intrusion complex?
The process of drying a structure is science. When floods intrude in your Kew Gardens home, there is likely to be visible and invisible damages occurring at the property. Standing water is an obvious example of visible signs of harm. However, less apparent injuries could include material saturation, water migration, humidity levels, and microbial infestation. Managing a loss site requires a solid knowledge of how water spreads as well as how it evaporates. While most flood loss site recoveries begin by pumping or extracting massive amounts of liquid water, the later stages are essential to avoid further damage. We find that many properties with odor or mold issues are the result of incomplete drying. Our technicians work hard to measure and monitor your home throughout restoration to secure it against further harm.
How do professional water restoration technicians measure water intrusion levels?
There are numerous technologies at our disposal when dealing with flood damage in your Kew Gardens home. A good restoration technician combines knowledge of psychrometry using in-depth measuring equipment before deciding on the best course of action to recover your home. Sometimes using knowledge means searching the property for signs of migration, including temporarily removing parts of the building's assembly. At other times, measuring equipment is utilized to test the saturation of these materials. It is not uncommon for a home and its contents to be exposed to moisture for several hours or days when dealing with a flood loss site. We actively pursue effective measures to mitigate losses and confirm our drying strategy using data.
Fittings such as cabinets, baseboards, floor finishes, carpets, and upholstery can often suffer from prolonged exposure to moisture.
Parts of the homes building assemblies, such as the subfloor or drywall, may become soft or disintegrate if over-saturated.
Semi-porous building materials like lumber can expand, warp, crown, cup, or buckle once moisture content levels go over 5% of the regular equilibrium moisture content.
What detection and monitoring devices are used for fixing flooded properties?
Homes are built from many different types of materials. Additionally, contents can use complex or sensitive fabrics in material construction. Technicians must understand how to measure metals, woods, hard surfaces, and textiles accurately to understand the extent of a water emergency. To do that, we use a variety of detection devices. Some of these devices measure temperatures, which allows a crew chief to assess whether moisture exists beneath or behind materials. Other devices use penetrating probes. These probes enable a restoration technician to monitor the extent of moisture saturation accurately. A wood construct, for example, could have many layers. Using a penetrating moisture meter, our technicians can keep tabs on how far the water has penetrated these materials and how effective dehumidification or other drying strategies are in the home.
What are the categories of moisture detection equipment?
Sensors are non-invasive measuring tools that could include thermal imaging cameras and allow technicians to assess whether water migrates into structural cavities.
Probes are used to take moisture content readings from inside materials. Sometimes, boroscopes may be used to check behind walls or flooring for evidence of moisture.
Thermal hygrometers detect the level of humidity in a property, which often raises after water intrusion. Humidity control is vital to limiting microbial growth.
How do moisture readings influence drying strategies?
No two homes are the same, so technicians need to assess the quality of restoration regularly. Different materials, as well as different severities of water intrusion, strongly influence the drying procedure. Using a penetrating moisture meter, a technician may find that hard surface material's moisture content is above the average equilibrium level. Those readings could influence the drying strategy by enacting a switch from refrigerant dehumidifiers to desiccant dehumidifiers. Desiccant equipment can reduce indoor humidity to a level where indoor air begins to draw moisture from a semi-porous surface. This humidity managing is a vital strategy for tackling concrete, hardwoods, and other hard-surface floorings that may become adversely affected by exposure to moisture.
How do technicians maximize monitoring equipment to increase drying times?
A technician may use multiple devices on the same surface to assess humidity, water penetration, and interior cavities.
Restoration technicians are assigned specific areas of the home to monitor and measure, providing reliable numbers.
When measuring humidity, we use both relative humidity and temperature to calculate the actual grains per pound of moisture within the indoor environment (preferably keeping it below 60GPP to prevent mold growth)
Tailoring a drying strategy to your home's unique build and contents can significantly reduce the restoration time-frame. Contact SERVPRO of Forest Hills / Ridgewood at (718) 568-6530 now.