Is Thermal Fogging Good for Fire Odor Removal in My Forest Hills Home?
5/29/2020 (Permalink)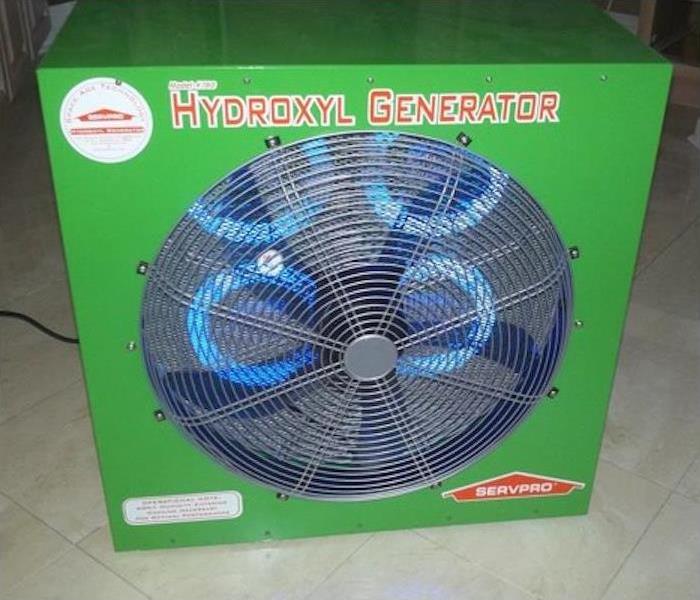 SERVPRO provides cutting edge equipment for odor control after house fires in the Forest Hills area.
We have multiple tools that can help to deodorize a fire-damaged home to suit individual circumstances.

Removing odors is only part of the often-formidable task of restoring Forest Hills homes and businesses after fire losses. With multiple potential tools and machines that can neutralize harsh smoke and burning odors after a structure fire, choosing the right approach can save a customers' time and money with the restoration work their home needs.
While fire damage in Forest Hills homes and businesses can embody many obstacles and necessary actions, odor removal can be a challenge because of how widespread this condition can become. From embedded odors in structural elements like drywall and wood framing to environmental scents that can make comfortable living difficult, we have several strategies that can work to neutralize these effects to make fire losses "Like it never even happened."
Among the potential deodorization approaches that our SERVPRO team can utilize, thermal fogging is one of the most versatile and effective available. The process allows for a wider dispersal area that can also penetrate porous materials. Part of the concern with structure fires is the rising temperature opening up pores in sensitive structural components more than usual, allowing for smoke and other harsh odors to become trapped inside the material during extinguishment when the surfaces cool again. While some of these surfaces must be removed and discarded by our in-house contractors, thermal fogging can often help reach these embedded odors. Foggers work by:
Superheating deodorizing chemicals
Creating a mist/vapor
Dispersal with pressurized blasts controlled by technicians
What Makes it a Recommended Choice?

While there are multiple odor removal implements that our team could use, thermal foggers and ULV foggers are common choices for several reasons. An assessment to determine the ideal deodorizing equipment gets conducted before mitigation begins. Our project manager and crew chief can catalog damage and choose the ideal personnel and equipment to manage present loss effects and get the property back to preloss condition. Some of the advantages of thermal fogging include:
Fast dispersal – By creating vapor and mist of deodorizing compounds, the neutralizing effect can be more widespread and easily dispersed throughout affected properties.
Lightweight and mobile – One of the advantages of choosing to fog over other deodorization options is the mobility of the equipment. With handheld tools, our SERVPRO professionals can quickly move from one room to the next without tearing down and setting up more equipment from one area to another.
Versatile – Not every odor removal tactic is universally effective for all potentially affected materials, contents, and areas of the property. For soft materials, porous surfaces, and open-air environments, fogging can be more readily used than many other strategies at our disposal.
What Are Other Deodorizing Tools Common to Fire Restoration?
Thermal fogging is a versatile approach to remove and neutralize odors affecting a home after a fire, but it is not the only option available. In many situations, there are reasons to consider some of the larger stationary units. From in-house restoration solutions to restoring your contents at our SERVPRO facility, some of the available odor removal tactics include:
ULV Fogging – This machine is comparable in many ways to thermal foggers, as it offers the same type of versatility and mobility. Instead of superheating a chemical compound, low-pressure air transforms liquid into vaporous droplets that can get dispersed from the handheld unit.
Hydroxyl Machines – Utilizing both ultraviolet cleaning and the production of hydroxyl radicals into the environment, this unit can help to not only neutralize smoke and burning odors but also help to clear out particulates in the environment as well with an onboard HEPA filtering system.
Ozone Generators/Chambers – the production of ozone is a process that splits oxygen compounds into isolated molecules that can bond with odor compounds and eliminate them. The process itself is unsafe for use around people and pets, which is why it gets used most often as an effective deodorization technique in a chamber at our warehouse for removed contents from your home.
When Does Deodorization Happen?
Despite the importance of deodorization, it is one of the final steps of mitigation because various cleaning and recovery actions can agitate these conditions. Also, discarding materials can reduce the severity of odors, making it most efficient to wait to neutralize only the odors left behind after mitigation has otherwise completed.
After fire losses in your home, odors can be an overwhelming obstacle. Our SERVPRO of Forest Hills / Ridgewood team can help. Give us a call anytime at (718) 381-3702.