Should I let my staff Handle Water Removal at my Forest Hills Office?
4/29/2020 (Permalink)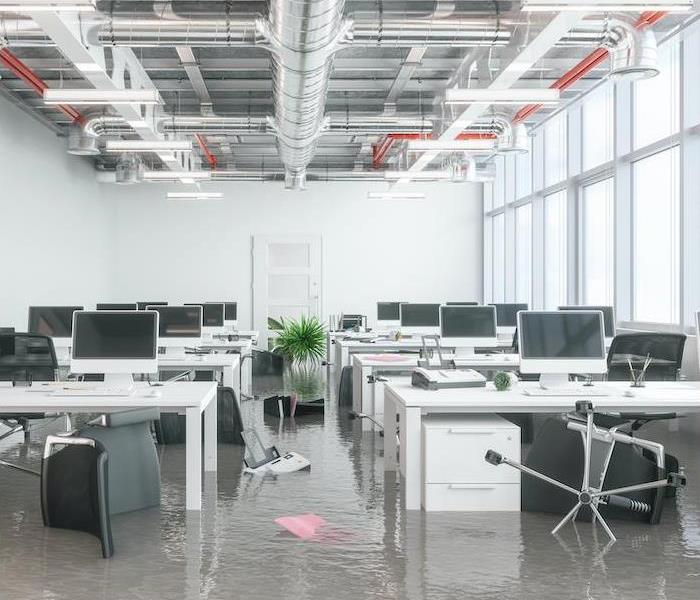 Each vehicle in our Green Fleet is stocked with equipment to dry your office quickly. Call us today!
It Might Take More Steps than Mopping Standing Water So You Should Call SERVPRO
In the case of a water spill at your Forest Hills office, you may consider handling it in-house with the help of janitorial staff, especially after managing to stop the source. For minor leaks, this may be a viable solution, but not when a significant amount of water is released or when the water spreads to concealed areas, you need assistance from a professional water removal team. Some issues can crop up during the restoration processes that prove too difficult for your staff to handle. Although you can still call professionals at the latter stages, you might end up with unnecessary secondary damage.
Why would water removal be tricky for janitors?
Several factors can complicate commercial water removal from your Forest Hills office, preventing the janitorial staff from handling it effectively. Although each incident is unique, the common factors that complicate removal include:
Content manipulation
Removal and reinstallation of some fixtures
Advanced moisture management
How does SERVPRO manage to handle content better?
Depending on the operations your office handles, you are likely to have different types of contents, which are vulnerable to water exposure or stand in the way when performing some restoration processes. Moving such contents out of the way is one simple way to deal with the challenges they pose. However, performing the actual move can be difficult, especially for bulky or heavy items. For example, moving a multi-drawer file cabinet full of documents to create room for wet vacuuming can be daunting to your staff. Our crews have various specialized equipment to handle such tasks conveniently, including:
Air sleds
Heavy lifting straps
Handcarts
What fixtures need removal after water spills?
The circumstances in each water loss incident are unique, and so the outcomes differ. However, each property is likely to have a couple of materials that are highly vulnerable to water exposure, thus necessitating removal. Common materials likely to pose challenges to your staff once exposed to water include:
Carpets
Insulation
Drywall
Wallpaper
Carpets absorb significant amounts of water, necessitating extensive drying efforts if dried in-place. Removal is the other alternative, which simplifies drying, although there is a risk of damaging the carpet when removing or reinstalling it. Our SERVPRO technicians can handle both options conveniently. If we decide to dry the carpet in place, we use weighted extraction tools, which utilize weight to squeeze water from the carpet fibers before using suction power to extract it. The availability of such specialized equipment helps our crews overcome challenges that your staff might face. Carpets are also prone to other problems such as stretching and staining, so the expertise our crews have is crucial for safe removal and reinstallation of the carpet once dry.
Removal of other materials such as drywall and insulation is necessary after significant exposure to water since they lose some of their physical properties, thus reducing their usefulness. Drywall may crumble while insulation loses R-value. Removal of such materials is usually necessary when water flows through the wall, ceiling, floor assembly, or when water remains standing in a room over extended periods. It is rare for a water spill to affect entire walls, so indiscriminate removal of materials from an affected area is wasteful. Our SERVPRO technicians use moisture sensors to trace the edge of the moisture migration determining which materials to remove. Thermal cameras can also help investigate moisture migration in hidden areas.
Is it possible to expedite moisture removal?
Unlike liquid water, which is readily visible and directed by gravitation forces towards the lower edges of your property, moisture behaves differently. Porous materials can concentrate moisture in any section of the office. Significant amounts of moisture also remain in the air. Moisture removal is likely to take the longest chunk of time in the restoration of your office after a water spill. However, it is possible to cut down the time by using state of the art drying equipment and unique drying techniques.
Our SERVPRO technicians pair up air movers and dehumidifiers to quicken the drying process. We make calculations to determine the units needed depending on the size of your office. We balance the ratio of dehumidifiers to air movers for balanced drying. In addition to relying on the efficiency of the equipment, we also apply several tactics to quicken the process. The common ones include:
Taking specific humidity measurements instead of relative humidity
Increasing temperature in the building to boost evaporation
The unique placement of air movers
Using drying chambers to isolate wet areas
SERVPRO of Forest Hills / Ridgewood can help minimize the inconveniences water spills present. Call us at (718) 381-3702 to help. We're Faster To Any Size Disaster.