We Put The Flames Of Worry Out In Forest Hills After A Fire
4/7/2020 (Permalink)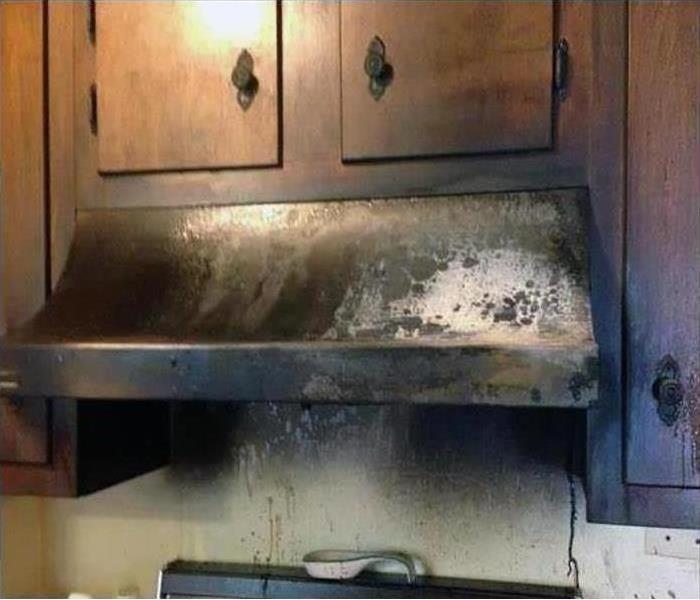 The grease fire on this stovetop was very hot and created a considerable amount of soot and smoke damage. We acted fast and started restoration.
What Type of Cleaning is Necessary after Fire Damage Incidents in Forest Hills?
Several Cleanup Steps May be Necessary, but SERVPRO Can Help Complete the Process Conveniently
Since fire damage consumes some materials and produces different residues as part of the combustion processes, there is a need to take appropriate steps to remove all the wastes left at the loss site. The process can present some challenges since there is a need for proper removal and disposal. Some essential steps for clean up include:
Trash removal
Food disposal
Residue cleanup
Water removal
Are there cleaning steps that have a higher priority?
The different cleaning processes after fire damage incidents in Forest Hills help achieve different goals, including halting any further deterioration of the property, removing or minimizing hazards, and dealing with soiling. Therefore, some steps have priority over others. Our SERVPRO technicians take steps such as extraction of any water leftover from firefighting efforts first to stop microbial development or other decay processes. We also remove trash or partially burnt materials, which might present risks to anyone venturing into the property. We can also ventilate the affected area to push out particulate-filled air from the room.
Can it be challenging to clean up after minor fire incidents?
When minor fire incidents such as stove flare-ups are controlled on time, they might only damage a few items such as cabinets and ceiling at the source point. The cleaning process is expected to be straightforward. However, several factors can complicate the process, including:
Impinged smoke residues
Presence of unique residue deposits
Residues in concealed areas such as cabinets
The heat from the flames can open up pores in materials or surfaces in areas affected by the fire allowing smoke residue penetration. Regular cleaning procedures such as wiping the surfaces cannot eliminate such residues effectively. Our SERVPRO technicians improve the level of agitation by using specialized equipment. We also leverage chemical action by applying professional cleaning agents to simplify the removal of impinged or unusual residues such as fuel oil residues.
SERVPRO of Forest Hills / Ridgewood responds quickly after a fire incident in your property. You can reach us at (718) 381-3702. We're Faster To Any Size Disaster.
See more about Forrest Hills.