Flood Damage Rego Park – Building Structure Compromised
12/30/2019 (Permalink)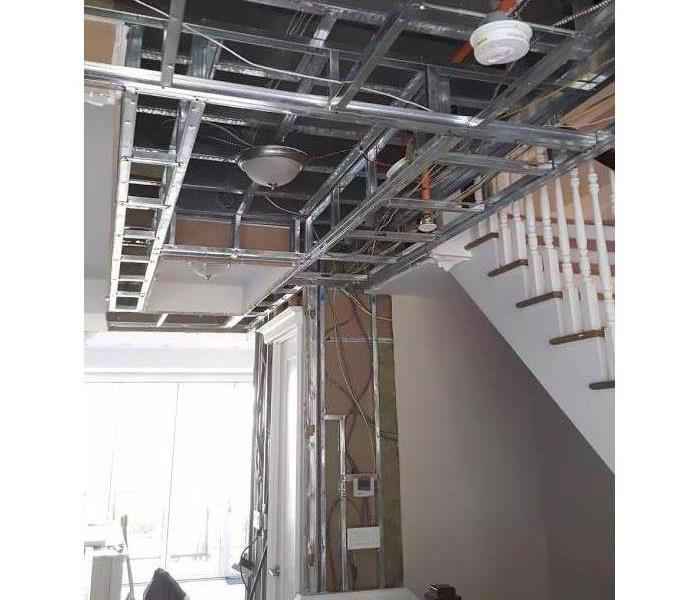 Flood damage can damage your Rego Park building. Let us help make sure your Building structure is not compromised.
If you have water damage to your Rego Park building, we can be there to assist on every level.
Often flood waters quickly overflow the banks of a river or stream, flood adjacent buildings, and then recede just as quickly. But sometimes it may take a few days for the floodwaters to recede. Buildings saturated in water for even a few days can experience structural damage requiring removal of ceilings, wallboard and flooring before restoration can begin.
Once SERVPRO can gain access to homes with flood damage in Rego Park, we can pump the water out of the building with high capacity truck-mounted pumps and begin the restoration process. We need to carefully assess the structure to make sure that it is safe to enter from a structure perspective as well as potential fuel leaks and contamination from various biohazards.
Check for Fuel Leaks
Fuel oil lines may have been severed, allowing fuel oil to leak into or around the home. Propane tanks can be toppled off their mounts, potentially causing fuel leaks. Many homes are heated with natural gas, and supply lines may have ruptured. SERVPRO checks for all of these sources of fuel, along with electrical circuits that may have short-circuited. Fuel leaks represent a significant safety risk. SERVPRO can contact the appropriate experts to resolve the situation.
Compromised Ceilings and Floors
There can be water in a variety of ceiling cavities which can come crashing down as the supporting drywall structure weakens. SERVPRO can drill one or two weep holes to drain water and reduce the risk of the ceiling collapsing before removing the ceiling.
Construction of subfloors is often from particleboard. When dry, the subfloor is strong and can support the weight of people and machines. Once immersed in water, the glue holding the particles together may weaken, and the wood can also swell. Subfloors can become unstable and not support the weight it is designed for.
SERVPRO examines a flooded building for all of these potential structural hazards before beginning restoration. Until this examination is complete, homeowners should remain outside of the home and avoid risking harm to themselves or their families.
Call SERVPRO of Forest Hills / Ridgewood at (718) 381-3702 for 24/7 service. We proudly serve Fresh Pond, Kew Gardens, and surrounding areas. We're Faster To Any Size Disaster.
To learn more about Rego Park, click here.