For Awesome Restoration after a Water, Mold, Fire or Storms Problem---In Forest Hills--Call SERVPRO
6/24/2019 (Permalink)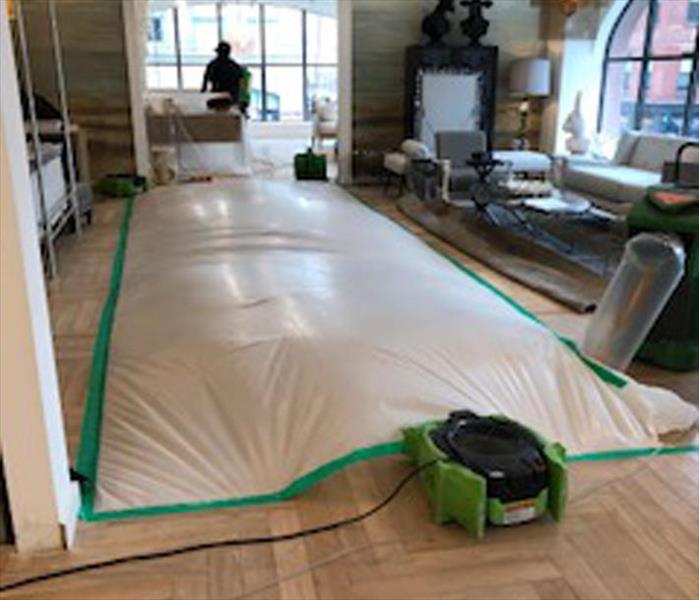 SERVPRO Techs Have the Experience, Skills, and Equipment to Restore Your Forest Hills Home after a Mishap--"Like it never even happened."
Why Using Professional Restoration Services for Forest Hills Properties is a Smart Move
There are various types of home improvements that work out great as DIY weekend projects. However, when your Forest Hills property requires cleanup and restoration services from damage done by storm, fire, water or needs mold remediation, it is a smart move to outsource the task to a professional company.
Water damage arrives in Forest Hills homes in many forms. Supply line breaks often happen suddenly, and the water loss can be a few gallons or many depending on how quickly the water is shut off in the home. Another common culprit is the hot water tank when it fails it can dump anywhere from thirty to fifty gallons of water in a house on average. The number one enemy in a water cleanup situation is time. The longer the time frame between the water spill and water removal, the more damage done to both the property and its contents. Also, water that stands longer than 48 hours gets a rating as a category three biohazard that requires protective gear during extraction.
SERVPRO has many kinds of water extraction equipment to ensure even hard-to-reach moisture gets removed. During the initial call, we inspect for the general scope and scale of water cleanup needs; this preparation ensures our green service vans arrive stocked with everything needed from portable pumps to stand-on Rover units and weighted extraction wands for pushing water out of carpet and padding for on-site drying, saving it from loss.
When Forest Hills require fire damage cleanup, it is usually a multilayered process. The type of fire damage determines the way we handle the mitigation, and we test the residue before the start of cleanup, so we apply the correct methods and solutions for the type of smoke damage that requires removal.
Fire cleanup entails removing charred items that have zero restoration potential along with identifying things that our proprietary cleaning techniques can save. Water damage is also a common issue after a fire, and we perform extractions as fast as possible.
Even small fires can leave significant odors in a property and until dealt with, may spread throughout the premises. SERVPRO Odor Control Technicians (OCT) use different types of equipment depending on the scope and scale of the fire odor removal needed. Some methods include:
Gel pellets-work on time-release to create a pleasant scent
Hydroxyl generators- these machines take airborne particles and molecules and use UV rays (just like the Sun) to neutralize them
Thermal fogging-our technician applies a solvent heated to a fog-state to penetrate porous objects and eradicate smoke odors.
Mold damage in Forest Hills properties often goes quietly unnoticed until the homeowner notices a musty smell or finds tell-tale mold colonies growing on walls, wood or other parts of the home.
Mold restoration is not an accurate description because mold occurs naturally both inside and outside the home. What matters is if conditions in the house become favorable for mold growth. Situations such as slow leaks that continue over time or poor ventilation from an exhaust fan are common reasons that lead to the need for mold remediation in both commercial and residential properties.
SERVPRO technicians hold certifications in mold remediation AMRT and know how to remove mold colonies safely from structures and stop the spread of spores through containment. We dry the structure, and when the mold dries, we can use different methods of abatement such as soda blasting which does not mar surfaces and cleans away colonies. Small hand-held HEPA filtered vacuums assist when scraping mold colonies from surfaces. As part of our restoration services, we also determine the cause of the mold and give the homeowner the steps necessary to inhibit the return of the issue.
When a Forest Hills property has storm damage, you need to act quickly, especially if groundwater has entered the property as it is a category three biohazard and requires special handling for safety and health reasons.
Upon arrival, SERVPRO technicians tarp over damaged roofs or seal off broken windows. Whenever possible we dry furnishings in place to avoid as much disruption when it is water from snowmelt or rainwater. Non-groundwater flooding through a broken window provides a much more potential for saving items through our cleaning methods. In the case of water in an attic, we use specialized insulation vacs to collect wet fiberglass insulation for restoration and reuse after drying. There is always the option of discarding and installing new insulation.
Flash floods resulting in groundwater coming into a home is the most severe level of water damage for a home. The water has the potential to contain debris, contaminants, and even sewage. Our technicians wear protective gear during mitigation and use EPA-registered solutions to kill harmful bacteria, viruses, and other pathogens.
Water extraction is vital to saving as much of the home and contents as possible. Because the more water we remove with our portable pumps and other equipment designed to expedite the process, the faster the drying phase goes. Thorough lowering of moisture levels under 45% inhibits the growth of mold and lowers odors significantly.
Why SERVPRO? Our technicians reside locally in the Brooklyn and Queens Boroughs and hold certifications in various restoration sciences. We follow the best practices as taught by the Institute of Inspection Cleaning and Restoration Certification (IICRC). Our team possesses the skills necessary to restore items using our proprietary techniques that result in less loss and savings since there is often no need to replace damaged items.
We know when local property owners contact us, they are already dealing with the stress of damage in their homes and have the added issue of providing proof to the insurance carrier for filing a claim, so there is a fast turnaround for the homeowner. To assist homeowners in feeling less overwhelmed, we provide detailed reports complete with before and after photographs of each phase of our restoration services. To ensure the property returns to its preloss condition, we also give both the adjuster and homeowner a list of repairs or required reconstruction necessary.
SERVPRO of Forest Hills / Ridgewood is available 24/7 at (718) 381-3702 to provide restoration services needed after damage from water, fire, storm or mold. Our trained, certified technicians can make any home disaster "Like it never even happened."