Safe, Effective Mold Damage Cleanup for Queens Property Owners
5/24/2022 (Permalink)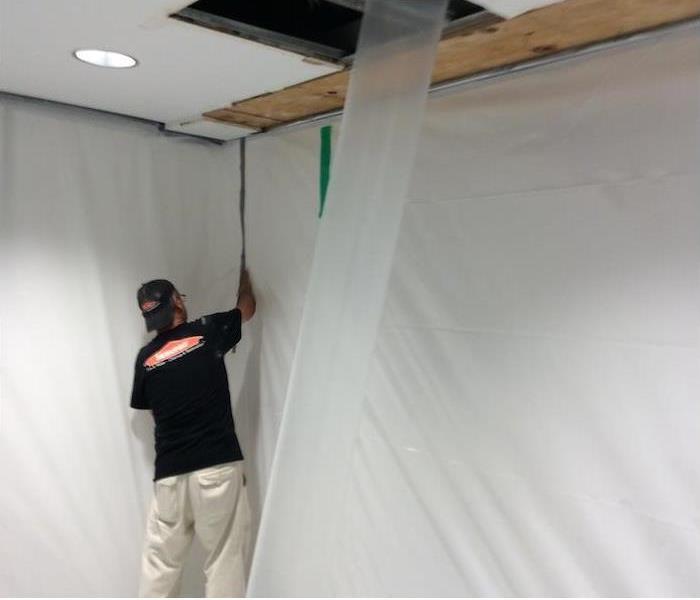 Mold damage should be addressed with rapid haste to prevent further spread. Call SERVPRO in Queens, and our technicians can investigate the situation.
Contact SERVPRO in Queens for Commercial or Residential Mold Damage
Why not handle black mold and mildew on your own? Many people think they can buy mold removers or wipe away visible mold they find within their Queens property. However, there are hidden dangers with mold infestations that call for the help of trained restoration technicians. There is the potential for structural damage that can occur if mold colonization gets worse. SERVPRO is there for mold remediation to feel confident that you can breathe easily again!
But why choose SERVPRO for mold damage in Queens? You might be amazed at how people are unaware of best practices for handling mold. Not only that, but property owners also have to consider how the mold growth began. After the mold has the chance to start colonizing, it may spread rapidly in as little as 48 hours.
A Few Things Everyone Should Know About Mold
When you hear about a product or company that says mold removal is possible. It is not. Because mold is all around us - on our clothing, outside in our environment, and in the air, a complete removal is impossible. However, SERVPRO's skilled team understands all the properties of mold, including proven methods for cleanup, to help you get back on track and your property free of the issue in very little time. Things to remember:
Countless types of mold are present all around us
Microscopic mold spores are not visible to the naked eye
Mold is located both outdoors and inside all buildings
Itty bitty mold spores can make their way into your living space on your clothing, attached to your pets, and through the windows or HVAC system
You may want to have a professional mold inspection and testing done in some instances. This gets followed up by our SERVPRO team handling cleanup and remediation so that you can get the spore count back to baseline levels within your home or commercial property. Our team also addresses the source that brought on the mold problem during any mold project so that it does not come right back. This means our technicians determine where the moisture came from – it could be excessive moisture because of poor ventilation, a hidden plumbing leak, or a water spill that was not thoroughly dried. The problem gets fixed so our technicians can move forward to handle mold cleanup with precision and care.
How Do I Know Mold is There?
Because you may not see the mold does not mean your property is free of it. Should you notice musty odors, the chances are high that mold has begun to colonize somewhere. You may also have an issue should you have 45% or higher humidity levels, which means there could be mold just about anywhere – under bathroom cabinets, within your carpeting, and in various tight spaces.
After our Green Fleet arrives at your door, inspection and containment begin. We put up containment barriers and use negative pressure in the area where mold is suspected so we can keep the spores from traveling. Our equipment consists of specialized air scrubbers with onboard HEPA filtration to pull tiny spores out of the air.
Contents Handling and Cleaning Following Our Protocols
Mold infestation impacts more than your structural components and building materials. There could also be spores multiplying on your personal belongings and furniture. Our team knows how to handle mold on surfaces such as:
Artwork
Furniture
Keepsakes
Toys
Clothing
Books and more
Whether you have questions about mold damage or need to schedule a crew to help at your house or commercial property, you can count on SERVPRO of Forest Hills/Ridgewood to get the job done right the first time. Reach us by dialing (718) 381-3702, and we will make it "Like it never even happened."