Avoid The Top Storm Damage Remediation Mistakes In Rego Park
9/22/2019 (Permalink)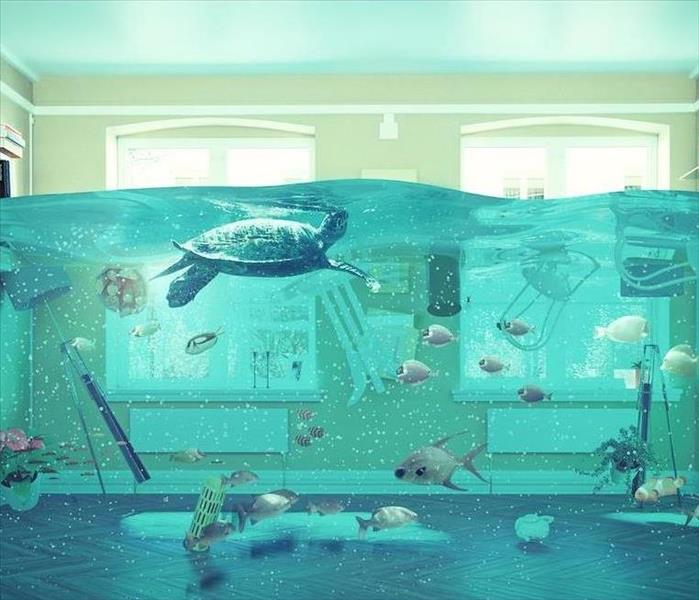 Flooding and subsequent flood damage can seem insurmountable. Contact SERVPRO when your home has suffered from an event.
How to Remediate Minor Flood Damage in Your Rego Park Apartment
Imagine a scenario where you leave for work one morning and come home to find your Rego Park studio apartment suffering from minor flood damage. Before work, you left the large window in your living room cracked open to combat stale air. However, while you were at work, a storm rolled over your city, and the window allowed rainwater into your home. So, what should you do in this scenario?

Because the flood damage in your Rego Park apartment is not significant, you may be tempted to remediate it yourself. No matter the situation, here at SERVPRO, we understand that accessing professional services is not always a practical option. For the betterment of your home, and your finances, we have some advice for successfully remediating the flood damage in your home.

The first principle is to remember that any leftover excess water could cause further damage inside of your home, such as mold damage. The key to successfully remediating the damage is to imagine where all the water could be, even the water that you cannot see. Here at SERVPRO, we use thermal imaging cameras for this very reason, but we understand that it is not a practical option for the average person.

As water sits on hardwood floors, the wood can begin to absorb the excess moisture. Some vital signs that your hardwood floor has become water damaged are bubbling, cracking, and swelling. In this scenario, if you notice any of these signs, you should reach out for professional help immediately.

You can use towels, or a mop, to soak up the excess water on the top of your floor. However, removing the water is not enough to ensure that water or mold damage cannot form. SERVPRO recommends using devices like space heaters and dehumidifiers to help draw any leftover moisture away from your floor.

After you finish, you should keep a close eye on the area for a couple of weeks. If you were to notice any signs that the hardwood floor panels are beginning to warp, or you catch a musty scent, reach out for help immediately. SERVPRO can rush to your home and make it, "Like it never even happened."

If your home needs flood damage remediation, get that help you need right away. Speak with SERVPRO of Forest Hills / Ridgewood by calling (718) 381-3702. We're always here to help you.

Click here to learn more about Rego Park.