We Are The Right Choice For Your Water Removal Services In Rego Park
7/24/2019 (Permalink)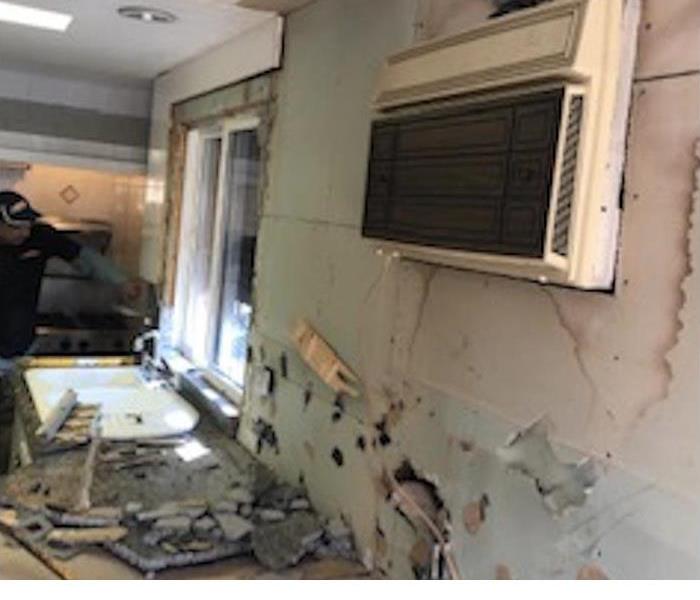 The team responded quickly to begin assessing and cleaning up of this house after the drywall in the kitchen suffered water damage.
Unexpected Water Removal Emergency in Rego Park
Life in a highrise in Rego Park on occasion means your neighbor's troubles become your own. Shared walls and your ceiling underlying another's floor can mean a water loss suffered by one of the other owners or tenants becomes an emergency for you as well. Sorting the matter out happens eventually, but at the time water showers from a ceiling or seeps in through the baseboard, you must take action fast.
Water removal in your Rego Park residence proceeds much more smoothly when you partner with our professional water disaster recovery team. Getting the water out of a multi-unit residential building is tricky, and particularly frustrating when the leak or overflow that caused the problem is ultimately out of your control. We can help extract the water from your living area quickly and use water and moisture detecting devices to make sure no further influx is probable from this event.
Water measuring two inches deep or more is a candidate for pumping. Immersible pumps, powered by gas motors, remove the water rapidly even if the electricity in the space is temporarily out of order. Our truck-mounted water extractors can also operate using power generated onboard our service vehicles. SERVPRO records data concerning moisture levels in the structural components in your residence so we can move towards drying out your home after the bulk of the water exits.
It is critical to reduce moisture levels in the walls, floors, ceilings, and other building materials and fixtures. SERVPRO technicians know that if excessive moisture remains soaked into these materials, progressive deterioration leads to weakening, crumbling, and collapse. Mold growth is also a risk if moisture levels remain elevated for more than 24 to 48 hours.
SERVPRO works with your insurance company during the water removal project, keeping you informed and helping with documentation. Assistance with the claims process is crucial when your damage is secondary to a water loss in a neighbor's residence in a multi-unit building.
SERVPRO of Forest Hills / Ridgewood has the experience, equipment, and training to manage water removal from any residence. Call us at (718) 381-3702 when water intrudes from adjacent apartments or condominium units.
See more about Rego Park.